The current unprecedented coronavirus crisis has affected all areas of life including church services.  Not only are the churches closed, but we are unable to celebrate the end of life by having a funeral in the normal way.
This has been particularly difficult for us Irish who are at our best on social occasions and of course a funeral provides so many dimensions for that; comforting one another;  telling stories of the deceased; coming together as neighbours and helping with hospitality.  Many of us are looking forward to the Memorial Masses which some families intend to arrange when restrictions are lifted, whenever that may be.
On the other hand, I have read and indeed heard it said, that when all this is over people may decide not to bother with the Church anymore and just do as they are doing now; a small service at the crematorium which does not need to be religious in format.
All of this raises the question of what place exactly the Church has and what it means for us.

Prayer in the Dark
It is well known that people pray more in times of crisis.  There is a lot of fear in the world today; there is a lot of fear in Ireland.  We have lost control of many elements of living and that scares us.  When we see the British Prime Minister, Boris Johnson, a man seemingly 'larger than life' ending up in an Intensive Care Unit, it shows us how even the seemingly powerful can be rendered powerless; this, in turn, is a stark reminder of our mortality, hence a turning to prayer.
However such prayer may just be the reaction of the moment and not really rooted in faith or practice.  Perhaps, a call for help, a cry in the dark to a God I don't really believe in? It also lacks the scaffolding of a Church Community, that gathering of people who share the same faith and look forward with the same hope.
Speaking of scaffolding we are reminded of the image of the Church as a building of God.  This can be problematic when viewed in the context of today, where the churches stand empty. However, the solution is simple; we are the Church, not the bricks and furnishings no matter how imposing and beguiling they may be.


We are Church
The Irish have a long tradition of practicing our religion in times of trial. Consider the Mass rocks of the past which focus us on the true meaning of community and celebration, stripped of trappings and operating, out of fearful necessity, with only the basics.
Going to Church is an indicator that we are part of a family.  It is a reminder that we are not alone.  We are there together in the company of others, just as Jesus had the company of his disciples. It is a safe place to be with each other and with God.  Community points towards support and a common cause.  The members may become your friends, or not, but they will invariably notice when you are not there.
I remember people saying to me when hearing my father had died, "We missed him at Mass".
When we go to Church we have a chance to quieten down, to pause in the madness of our lives, to reflect, to remember moments of sadness and joy.
We pray for those who have gone to meet God before us, thus affirming that we are part of an unbroken chain of the faithful.  We also pray the powerful prayer that Jesus gave us all, the Our Father.  We pray for peace thus declaring that we are standing against war, violence poverty, and famine.  At Mass when we receive the Eucharist it is a reminder that God is with us and in us.  Hearing the Word of God is special and essential for the Christian journey.  Each Gospel has a story and a lot of meaning, which can facilitate the learning of life's lessons.

Now and Forever
A recent survey has found that weekly church attendance figures in Ireland are about 30% and since the Covid restrictions in movement, 27% are turning into religious services online, or via TV or radio. So it would appear that people are doing their best to still participate in communal acts of worship.
The Vatican Livestream the pope's daily Mass and Sunday sermon.  Some parishes offer drive-thru confessions.  The Bishop of Elphin, Kevin Doran said he and his colleagues, Archbishop of Tuam, Michael Neary, Bishop of Galway, Brendan Kelly, Bishop of Killaloe, John Fleming, Bishop of Clonfert, Michael Duignan and Administrator of Achonry Diocese, Fr Dermot Meehan have zoom conferences most days to take account of updated coronavirus regulations.
All of this is positive for the ongoing life of the Church, but it does not substitute for the comfort of actual social interaction and it does raise the issue of how the Church may be changed.
In fact, this is a very exciting and challenging time for us in the Church.  It may seem paradoxical but as we suffer and become less sure of ourselves, as we lose a lot of what we take for granted, we have the power to become closer to Jesus. He is our salvation and hope and he remains with us.  We derive comfort from the fact that in the long history of the world, God's people have faced immense and seemingly insurmountable challenges in every generation and yet endured.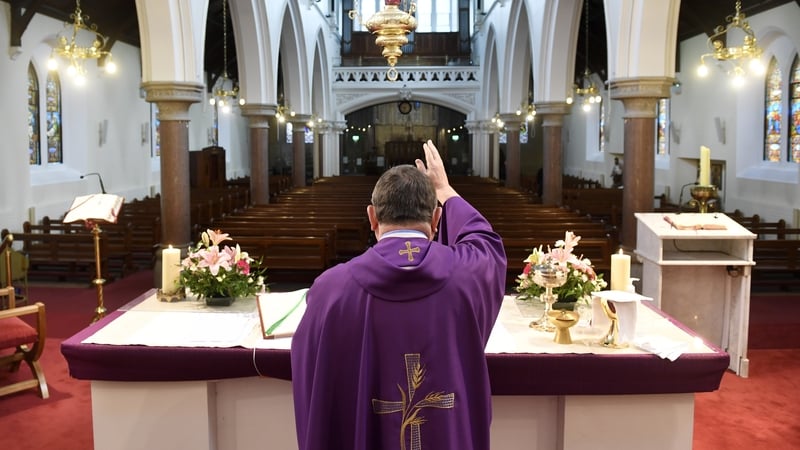 Written by Marie – Therese Cryan